Are you in search of the best word cloud generator? Then this piece is what you've been waiting for. With these apps, you will be able to mix lots of words, links in the same place without worrying about your readers getting frustrated with your content. We've done our research on some of the best of apps as far as word cloud generator is concerned.

Why a Need for a Good Word Cloud Generator?
For those who still don't understand what we are talking about, a little 101 will clear that. So, the word cloud is what you will call an electronic image of different words. If that's not clear enough, you can also describe it as strings of texts. Also, these texts are of different size. They are also arranged based on how they will be used. The terms 'word cloud' is derived from the functionality of the app which has to do with making words flow in the form of a cloud. With word cloud apps, you can graphically paint emotions. In addition to all of these, it makes a dull article to come alive in the form of an artwork.
Best Word Cloud Generators to Try in 2023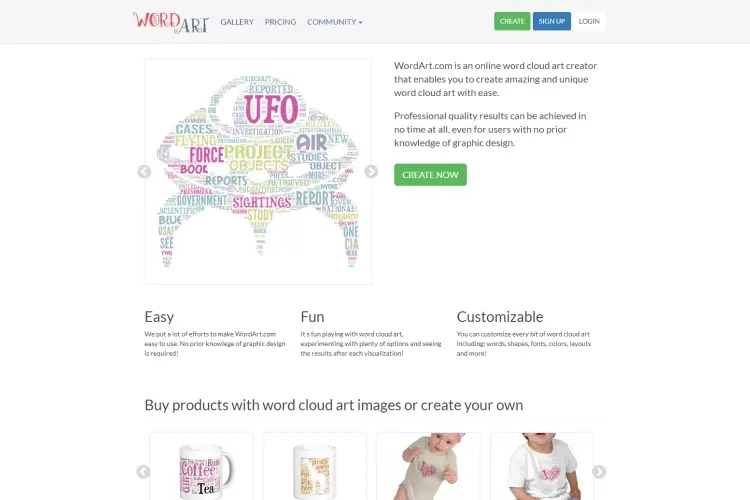 First on our list is an app whose functionalities make it one of the most customizable word cloud generator out there. It was formerly known as Tagul. It also lets you create unique words from the text, a list of tags, or a URL. To use this platform, you need to click to head on to their homepage. Once you get there, you will notice a blue "Sign up" button on the page. To continue, submit the required information and click on the grey "Sign up" button. You will be required to check your mail; there, you will find a message from WordArt. Click on the link and follow the prompt. With WordArt, users can create appealing images. It lets you upload an image and select the shape of your choice for the word cloud. In addition to all of these, users may choose to change the font, size, and colour.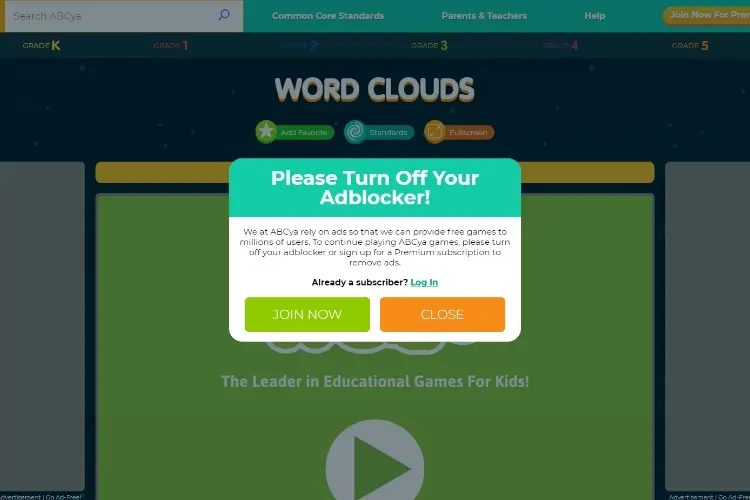 Second, on our list of best word cloud generator is a tool that's so simple you might probably think it's a toy. Undoubtedly, it is the most simple and easy-to-use word cloud generator on our list. You won't be wrong if you call it a human toy simply because that's what it is. The tool is designed for children. This makes the interface simple and very easy to work with. You'll find different schemes, themes, fonts, shapes, and colours on its interface. This one is suited for kids.
One of the things you'll find interesting about wordclouds is the overall design and how its 'beginner-oriented'. There is a pop-up message that asks if you need help creating your first project, in this case, a word cloud. This tool has a modern feel, especially with its interface. One can easily navigate through its interface while working with tons of customizable options. However, don't expect this tool to duplicate words that you've put in to make up a complete image, users are meant to do that manually.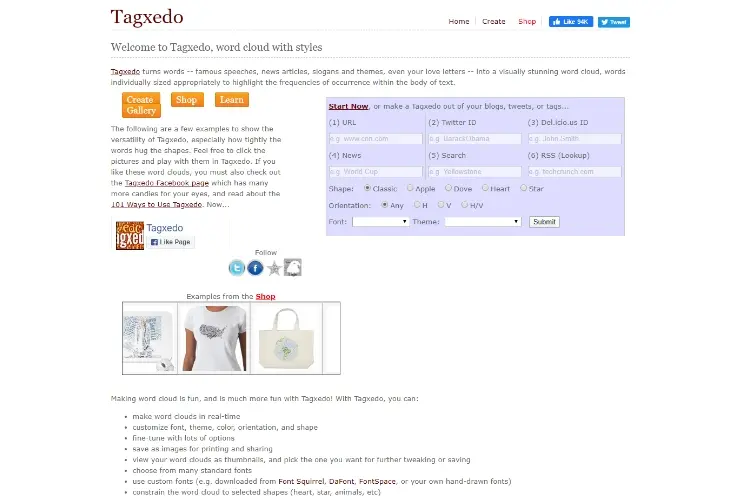 Tagxedo which can be pronounced as "tuxedo" is one of the best free word cloud generating tool on our list. Turn your favourite speech, quote, slogans, and articles to a beautiful word cloud. Tagxedo is capable of grabbing input text from different channels. You can also enter blog links, add a twitter id, google search phrase, and an RSS feed link. What Tagxedo will do with these attached links is to extract your desired words to help generate that stunning image. It creates a beautiful word cloud in real-time. Once you finally get the result, play around with the font, font size, text colour, the themes, text shapes, orientation and themes.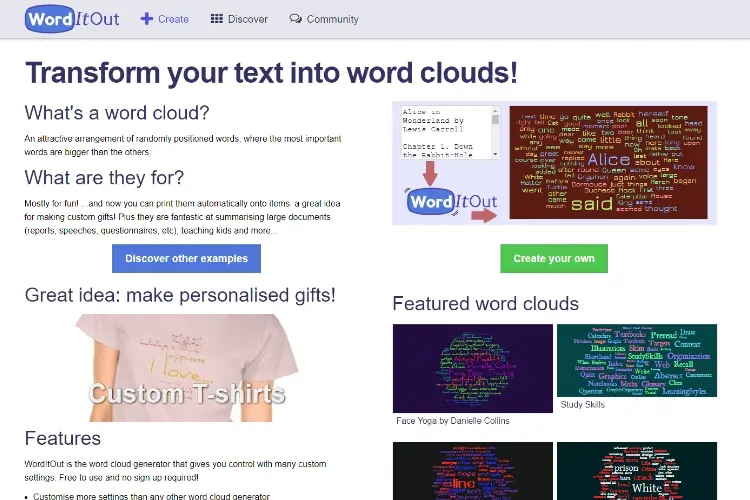 This is undoubtedly one of the simplest word cloud generating tools out there on the internet. A tool that lets you generate visual graphics from the relevant text. If you need a tool for prioritizing words while learning, summarizing reports, creating stunning presentations, WordItOut is your best bet.
Just like many other word cloud generating tool which we have on this list, WordItOut lets you play around with words and ignore texts that you find irrelevant to your project. You can make use of different colour while working with words, adjust the size of each word, play around with the layout, amongst other things. There is also a community of WordItOut users online. Join this community to find inspiration for your next word cloud project.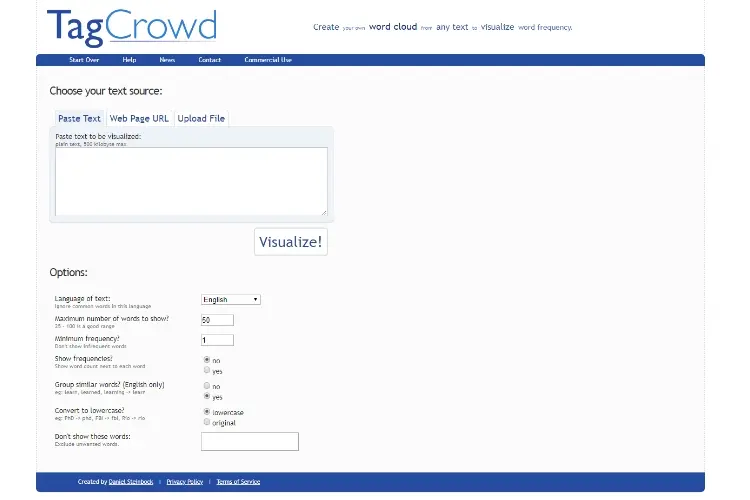 Even though this tool comes with its own downsides (just like everything else), it's still worth talking about. You can upload files or make use of URL addresses. The project created on this tool can be saved as PDF. You can also print using the full-screen print option on the tool's menu option. You need not worry about providing your login credential as there is no need for that. It is free. On the flip side, there is no colour option, and you can't customize the style. But some of the features of this tool include options to group words, select a certain number of words to display in your word cloud. Set the font size, margins, background colour, and borders.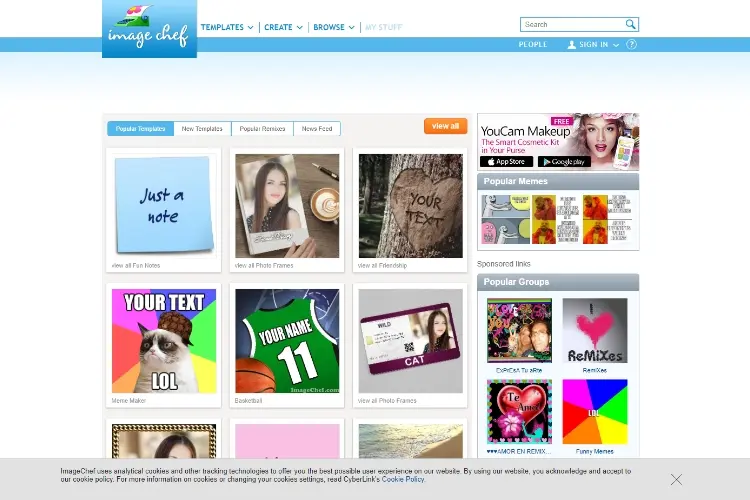 ImageChef is a popular word cloud generator that can be used online for free. With the ImageChef, users can explore more than just plain fonts. The tools uniqueness makes it very efficient for every user. The final project created with this tool is sharp and very stunning. Without a doubt, it is currently rated amongst the best word cloud generators out there, and that's why it is also on our list too.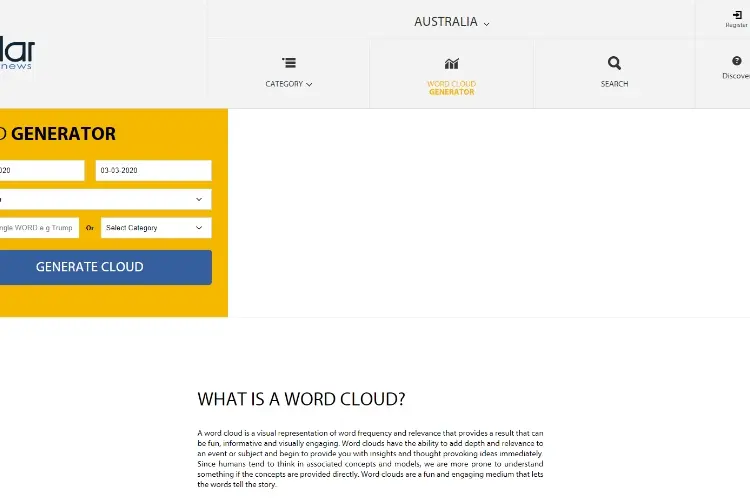 Of all the word cloud generating tools we've mentioned so far, this is the only one that perfectly suits all news analysts and researchers out there. With Tricklar, you can create word clouds from excerpts gotten from news articles. You can also integrate the time, keywords, background, as well as the location. The tool is capable of picking up relevant and useful news content from quality sources to completely generate a final cloud project. The final result can always be customized by simply setting the word cloud shape, background, and style.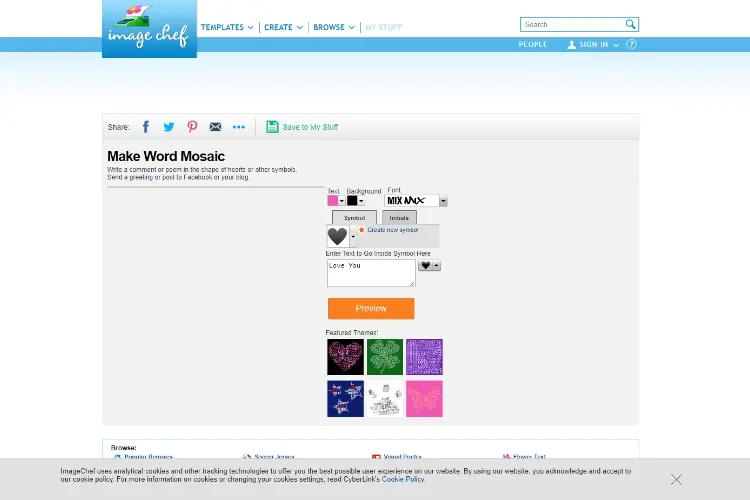 Make Word Mosaic is a creative tool designed by Image Chef. Just like most tools on our list, Make Word Mosaic lets you play around with different colours, shapes, fonts, font orientation, and shape. It lets you save your project in different file formats including JPEG. On a different note, you will be required to pay a token if your project is a large image with a high resolution. You don't need to go through any login process to access their features.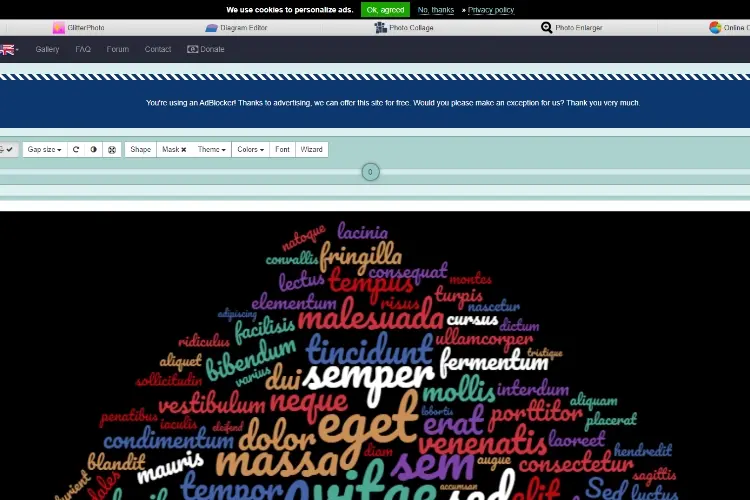 TagCloud generator is one of the simplest word cloud generating tools. This is due to its simple interface, the non-complex mode that lets the new user navigate through with ease. The tool uses an HTML platform which lets you put the tag word cloud on the web page. This even makes things easier for the user. The tool is free and doesn't require any login credentials or filling a signup form.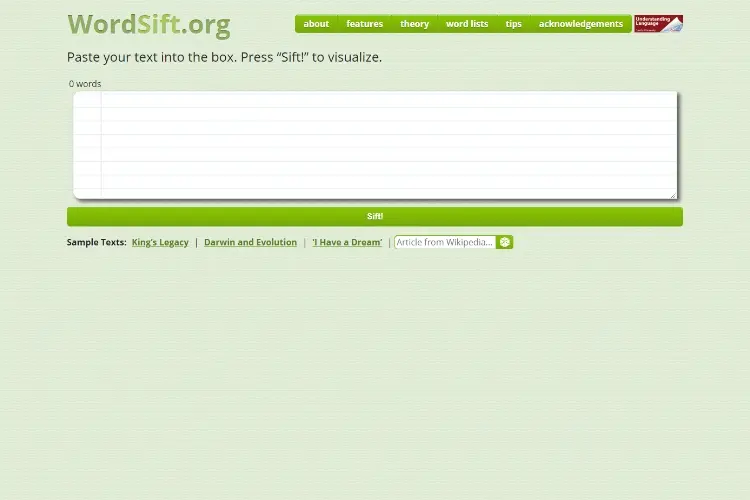 Wordsift lets you visualize and explore text data. Asides the fact that it has all the basic word cloud generating features, it also comes with a visual Thesaurus. With the visual Thesaurus feature, you are presented with antonyms and synonyms of relevant words. The feature is inspired by WordNet which an online dictionary with useful tools.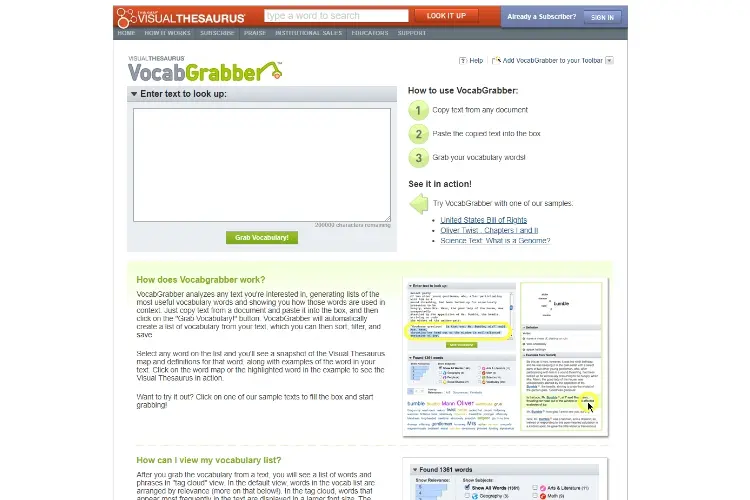 Asides the interesting name, there are lots of other things you will find interesting with this tool. A tool created by visualthesaurus.com. The tool's entire essence lies in its ability to pick useful words from the text supplied by the user. The final visual presentation is determined by those words and how they were used.
With this tool, you can select different words from the generated words. It also provides what is known as the visual thesaurus map and meanings for those words picked. The tool also helps by automatically picking important text from the supplied text. This is to demonstrate different usage for you to work with.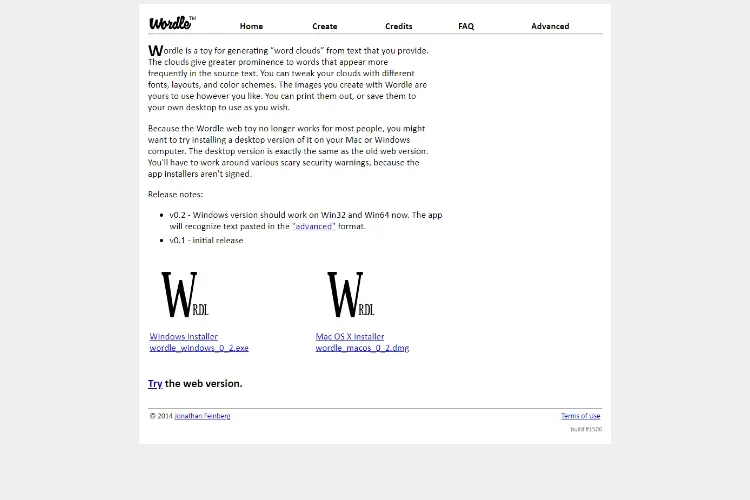 The last but not the least word cloud generator tool on our list is the Wordle Generator. It is easy to use and offer users with tons of features to work with. It is unarguably one of the oldest tools out there. All you have to do is to simply copy and paste your desired text. You can also create text using the URL.
Conclusion
These are some of the important word cloud generators out there. From WordArt to Wordle Generator, you will find a perfect fit for your next project. Gone are the days when these tools are only useful for cooperate bodies. Individuals can also play around with these tools. If you've used any of these tools, feel free to drop a comment below.