Right now, Twitch is the biggest name when it comes to live video streaming on PC and consoles. It is the best streaming service when it comes to gaming and gamers. You can even stream other things such as live football matches and any other IRLs. This quickly boosted Twitch's rise to fame with currently over 2.2 million content creators. However, due to recent guideline changes, a lot of creators are having difficulty going live.

The good news is that you can always stream live videos of yourself playing popular games like Apex Legends, Call of Duty, PUBG, Fifa, League of Legends, and many more on other streaming services. These other streaming services are the best twitch alternatives you can find in 2023 and we will discuss them in subsequent paragraphs.
NOTE : While Twitch might seem like a haven, it is not best for new streamers with no audience at all. Twitch has millions of creators all streaming at the same time. The implication of this is that without an audience who already look forward to your streams, you might stream for hours on end without having a single viewer online. What this means in essence is that you can only start streaming when you already have an audience that looks forward to your content.
Top 7 Best Video streaming sites like Twitch
Before we go into details of the top 7 best Twitch Alternatives 2023, you should note that Twitch is still currently the best video game streaming service. However, if you are tired of streaming on Twitch or still new to streaming, we will discuss several other alternatives where you can stream to your audience or build your audience as the case may be. Without further ado, below are our top Twitch alternatives in 2023: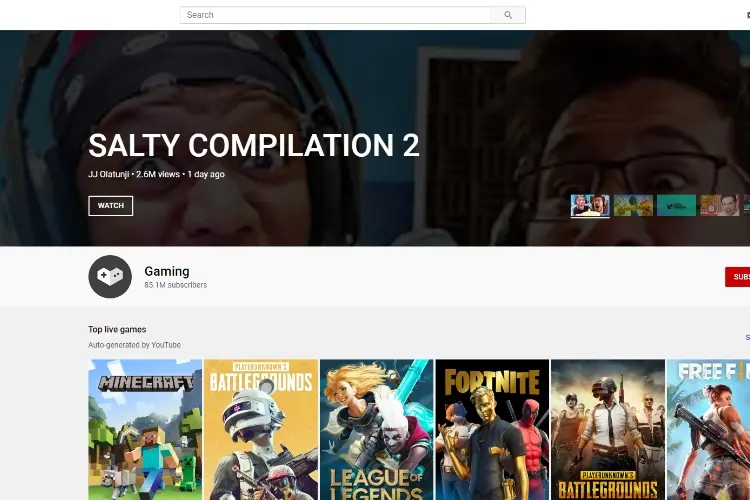 YouTube Gaming is arguably the closest competitor to Twitch and for good reason. Twitch is essentially a subsidiary of Amazon and YouTube is owned by Google. The two tech giants have always been in a race to outdo each other in terms of providing essential services to the world.
YouTube Gaming is not so different from the normal YouTube you watch movie trailers and comedy videos on. The biggest difference is that YouTube Gaming focuses only on live video game gameplays, live video game reviews, game walkthroughs and tutorials, and other game-related videos.
The user interface also looks different from the standard YouTube. For instance, when you get to the home page, you will quickly see it adopts a dark color theme. You can browse through the recommended picks on the home page which is similar to Twitch's homepage. You can also just go straight to Live . The live section lets you see YouTubers currently streaming their gameplay live. Other sections on the home page are the Games section and Channels section.
YouTube gaming is the best alternative to Twitch you can get. It is not only good for people looking to watch Live gaming streams. It is a very good place to start as a content creator just starting. You can easily build an audience on YouTube before switching to Twitch.
YouTube Gaming also lets content creators earn money just like Twitch. All a content creator needs to do is monetize his or her channel through Google Adsense. As long as you upload videos on your channel, ads will be added to the videos and you can earn a fixed amount of money per thousand.
Besides monetizing your channel and videos, you can also earn money through monetary donations from your viewers.
YouTube Gaming has a website client and mobile apps for Android and iOS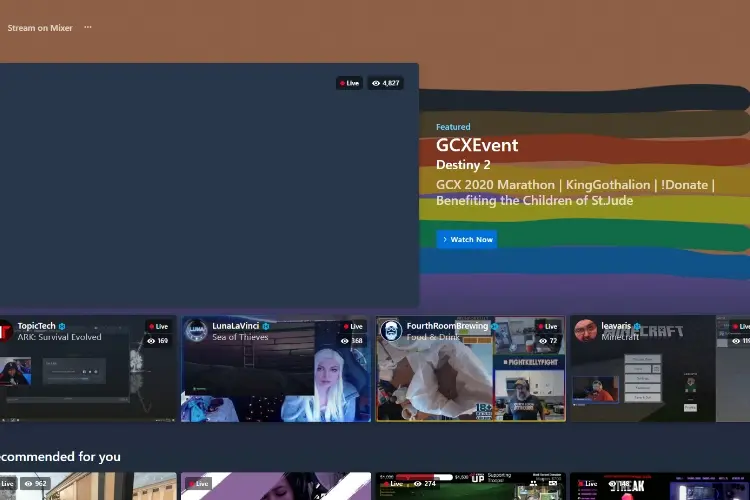 Another live video streaming from a popular corporation is Mixer. Formerly referred to as Beam, Mixer is owned by Microsoft and it has a lot of similarities to Twitch.
Just like Twitch, Mixer focuses purely on Live video games gameplay and other game-related videos. Mixer boasts some exclusive features that let all the viewers interact with the stream they are watching. The exclusive features on Mixer aside, Mixer has a feature that lets viewers use SDK to control what the streamer does by voting.
The user interface is simple and not crowded. You can easily search for a stream based on the name of the channel or of the game. The homepage of Mixer has some sections that make navigating easy. Some of these section includes:
- Featured: This is a section where you can see the top picks by the admins on Mixer.
- Up and Coming: a section where you can see streamers scheduled to go live and the time their streams will be live
- All Streamers
An added perk of using Mixer is that the service is fully integrated with Xbox and Windows 10 making it easy to stream. There are even plans to integrate the player with other platforms as the service gain more popularity.
Although Mixer does not have much popularity as Twitch, it has one advantage over Twitch. With Mixer, you do not need any other third-party application or software to stream . This is because Mixer has features that make it capable of streaming any game you are playing to your viewers at high video resolution.
You can only access Mixer via the website.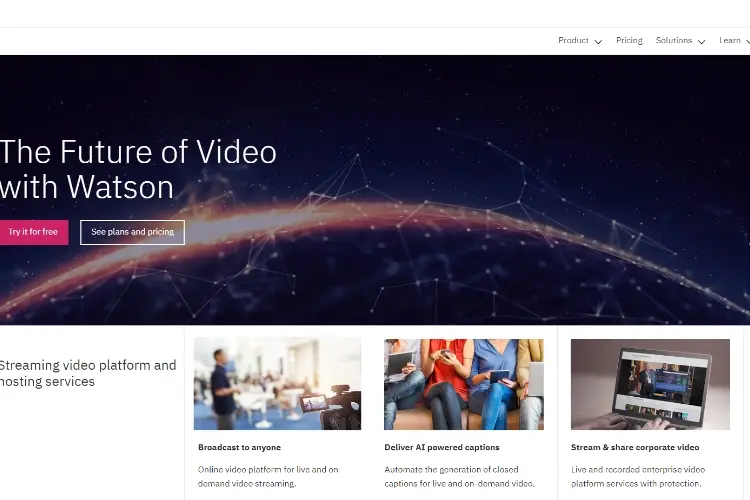 Ustream is a streaming service owned by a San Francisco based company. It is also referred to as IBM Cloud Video. It does not focus purely on gaming streams like Twitch but there is a fair amount of gaming channels to follow. Apart from watching gaming streams, you can also stream talk shows, live sporting events, and live streams of live events.
Ustream rarely experiences downtime like Twitch and it is fully integrated with PlayStation 4. In other words, you can stream from your Sony PS4 with ease. Many top social platforms like Facebook, LinkedIn, Salesforce, and NASA all release live videos on Ustream.
Ustream is a cross-platform and is available on Android, iOS, PlayStation 4 as well as web client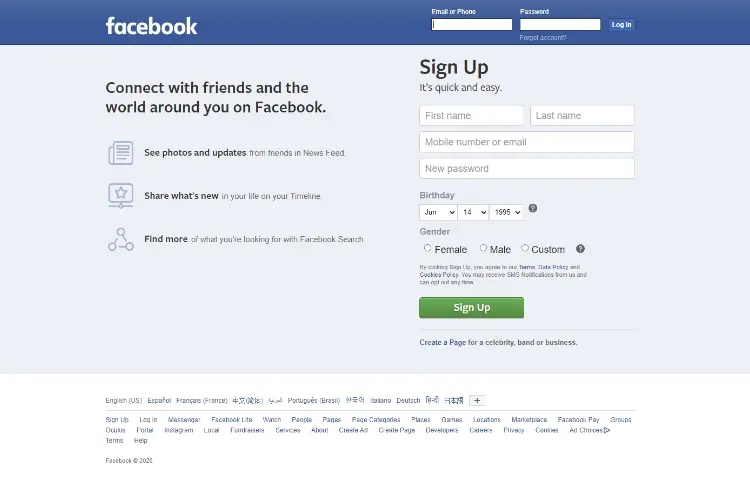 Facebook has it all right? Well, it should not come as a surprise at all especially considering just how big a platform Facebook is. It is one of the biggest social media platforms in the world right now.
The truth about this service is that it is widely overlooked and not many people know about it. However, Facebook Watch has a lot of advantages for streamers using it. One of the biggest advantages, of course, is that it lets you grow an audience that you can then move to twitch or YouTube. This not only helps you generate views on your live streams, but it also ensures your facebook audience are informed you have a YouTube channel. This results in double revenue generation from both Facebook monetization and YouTube ads.
Those advantages aside, Facebook Watch lets users download saved stream videos for offline use even without opening their Facebook app. This is much better compared to YouTube's offline mode that lets you watch videos you already downloaded only on the YouTube app.
All you need to do to get started is to create a page and look for the audience that loves the game you want to stream.
You can access facebook watch via the website or the Android and iOS apps.
This is a streaming service that has been in the Live streaming scene for years. Smashcast is the result of the joining of two other online live streaming service - Azubu and Hitbox.
The user interface is fluid and the features are all easy to access. If you are into watching eSport streams , Smashcast is your best bet.
And to crown it all, Smashcast also has a live chat system like YouTube and Twitch. This means viewers can interact with a Live stream to influence what the gamer does in the game he or she is streaming.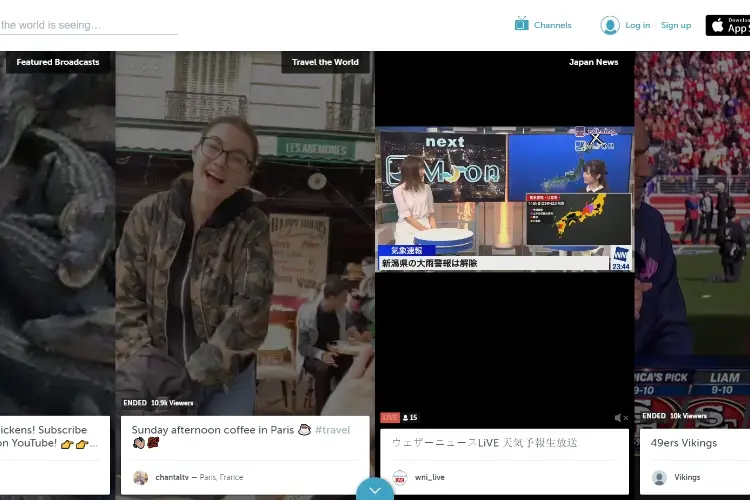 Periscope is twitter's representative in the world of gaming streaming services. it is preferred by a lot of users worldwide for the flexibility it has over other popular streaming services. With periscope, there is no precise type of stream you can push to your Twitter feed.
Also, viewers can interact with any stream IRL (in real life). Through this medium, viewers can tell their favorite streamers what they want to see.
Periscope also allows streamers to save their streams similar to the way Twitch streamer and YouTubers save their streams to their channel. That way, viewers who missed some part of the live stream can rewatch anytime they choose to.
One feature Periscope has not available on Twitch is the ability to record gameplay via a camera. To stream on Twitch and even YouTube, you need to connect the screen of your device to Twitch or YouTube.
This does not have any affiliation with Instagram. It is a growing platform where gamers can stream videos of them playing a particular game. Instagib offers just about every other feature twitch has. Its best feature is the low latency live streams it allows gamers to set up.
One major drawback of this website is that it is not as popular as the other streaming services in this article. Another drawback is that you have limited bandwidth unless you pay to upgrade your channel to a VIP Channel.
Conclusion
The aforementioned services and platforms are the best Twitch alternatives that you can stream on. Do you think we missed an important streaming service like Twitch ? if yes, do leave a comment in the comment section down below.