Since time immemorial, transportation has been an integral part of human life.
Each day you wake up, you plan to move from one location to another. As technology continues to advance, different transportation mediums are introduced to make people's movements easier and faster. Nowadays, virtually all activities have become digitalized. This digitalization has extended to the transportation industry. With the use of technology, you can connect with transport services to make bookings for your planned journey. The technological geeks have developed efficient apps through which you can make booking effortlessly. An example of these apps is Uber. Since its introduction into the transportation sector, Uber has continued to serve travelers and commuters excellently. It has a massive fleet and also covers a lot of cities and countries worldwide. However, Uber has been indicted on some issues. Users of Uber has raised spying rumors, privacy concerns, safety issues, and many more. Also, drivers who work with Uber have raised concerns about being responsible for mechanical maintenance, gas, and other automobile services. Hence, Uber users have expressed their willingness to harness alternatives that can provide better and secure services.
Summary of Alternative Apps like Uber around the World in 2023
The table below summarizes the features of alternative apps like Uber.
Apps Like Uber
Features
Lyft

It offers its users cashless payment services.
Six people can share a ride on it.
Its services cover more than 65 cities.
You can track your ride seamlessly.
Drivers are licensed, well trained, and verified.

Ola Cabs

Its drivers are well-trained and verified.
Its services cover over 85 cities in India.
It offers lower fare to users.

Hailo

Its drivers are CRB checked.
It offers an electronic payment system to users.

Gett

You can make bookings in advance for two weeks.
The drivers areTLC-licensed.
It offers promotions to its customers.
Its services are available in over six countries and 60cities globally.

Cabify

It has no hidden charges.
It has fixed rates for customers.
Customers can book for friends and family.
Customers can track their ride seamlessly.

Easy Taxi

Its services are enjoyed in over 420 cities and 30 countries worldwide.
Customers can track their ride effortlessly.
It parades tested and licensed drivers.

GrabTaxi

It parades well screened and licensed drivers.
Customers can track their rides.
Its services are available in six countries worldwide.
Best Uber Alternatives Around the World in 2023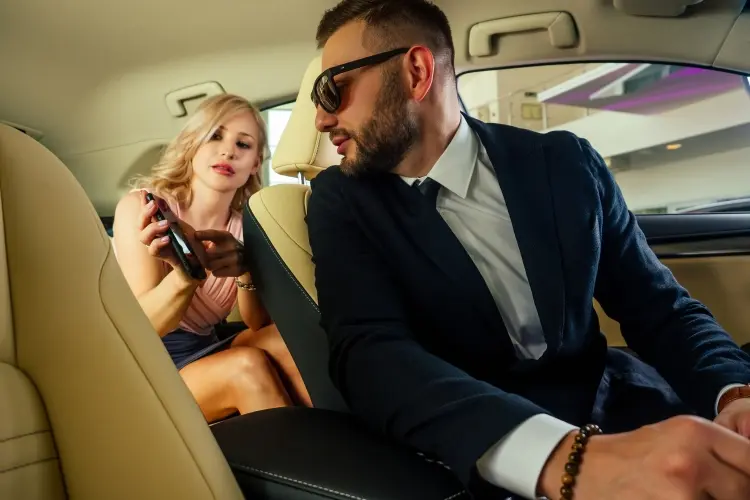 Many alternative apps like Uber are available for users to enjoy. That said, it is important to identify and discuss the best of the alternative apps like Uber. Today, I will be telling you the best alternative apps like Uber you can use on your devices in 2023.

1. Lyft - Link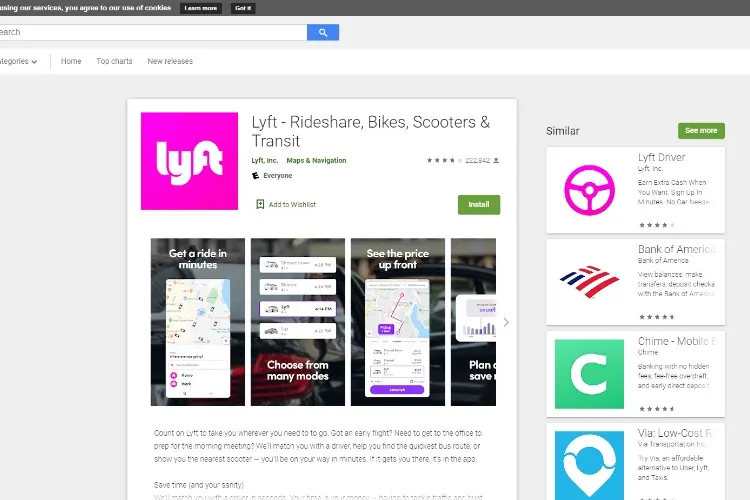 Since it was launched into the transportation industry, Lyft has positioned itself as a big competitor to Uber. The Lyft app is designed with an elegant and user-friendly interface that is easy to maneuver. With Lyft, the ride-hailing services have become easier, safer, and faster. To work with Lyft as a driver, you must have a driver's license. You must also undergo criminal, background, and DMV checks. On the Lyft app, you can easily track your driver and ride details. Studies have shown that the waiting time of Lyft is six seconds lesser than that of Uber. To deliver quality services to its users, Lyft has three services called Lyft, Lyft Line, and Lyft Plus. With these services, you can ride alone or with a group of six people. Lyft covers over 65 cities in the United States and assures the safety of its users. It has extended its services to countries like China and Canada. The Lyft app does not intrude on the privacy of its users. The app supports iOS and Android devices.
2. Ola Cabs
When you are India and desire to use a perfect alternative to Uber, Ola Cabs is the best ride-hailing app you can use. The app has an intuitive and elegant interface that is straightforward to use. Today, Ola Cabs has one of the largest fleets of vehicles in India's transportation sector. Its services cover more than 100 cities in India. Ola Cabs charges its customers an affordable fee when compared to its competitors. The drivers of Ola Cabs has verified and valid driver's license. They maintain cleanliness and drive with a high sense of responsibility. When you hire its services, your safety is guaranteed. Ola Cabs supports iOS, Android, and Windows mobile devices.
3. Hailo
Hailo is another app like Uber that is based in the United Kingdom. The app of Hailo has an intuitive and fascinating interface that is straightforward to navigate for its users. Since its introduction in the UK, the fastest growing and the efficient ride-hailing app has continued to provide effective services to its users. It started by hiring private cars for their services. It later switched to the use of black cabs to provide transportation services to its users. As of today, Hailo is used in eight cities and five different countries globally. With Hailo, you can make cab bookings for your guest and pay for the bookings electronically - through the mobile app. Hailo has a feature whereby business owners can choose to make reservations for business class. Hailo hires CRB checked drivers that have verified and valid driver's license. The Hailo app supports devices like Apple Watch, iOS, and Android.
4. Gett
Formerly known as GetTaxi, and called Black-cap app in the UK, Gett is an excellent ride-hailing app competing favorably in the transportation world. The ride-hailing services have capitalized on Uber's increment in fare to win more customers to its platform. Recently, Gett reduced its transport charges on booking made in New York City by 25 percent to encourage massive patronage. With Gett, you can also enjoy promotional offers, which include the $10 ride to any location in Midtown and 110th street in Manhattan. As of today, the ride-hailing services of Gett has gone global. Its services are widely enjoyed in countries like the United States, Israel, Russia, and the United Kingdom. The notable cities where you can access the services of Gett in these countries are Tel Aviv, London, New York City, and Moscow. Gett provides its users in over 60 cities worldwide the opportunity to m ake booking two weeks in advance. When you book for its services, you enjoy electronic payment, and the services of tested and TLC licensed drivers. The Gett app supports iOS and Android devices.
5. Cabify
Cabify is a fantastic Uber alternative in some countries in Southern America and Spain. The Cabify app has a well designed and user-friendly interface that is easy to maneuver. With Cabify, you can access superb ride-hailing services at a transparent, fixed, and affordable rate system. Cabify offers Cabify for Events and Business for people interested in making bookings for business trips and formal events. It also provides corporate traveling services at a lower rate to its customers. Cabify supports multiple accounts, invoices, and no hidden charges. On Cabify, you can book a cab on behalf of friends and family. You can also access ride fare calculator, estimated pricing, real-time tracking, and other exciting features. The services of Cabify is available in Chile, Mexico, Spain, Peru, Colombia, and seven other countries. Its services are also available in more than 130 cities worldwide. Cabify supports iOS and Android devices.
6. Easy Taxi
With its services in over 420 cities and 30 countries worldwide, Easy Taxi is a famous alternative to Uber. The taxi-hailing company is patronized by more than 17 million users globally. The taxi fleet of Easy Taxi is more than 400,000. With Easy Taxi, you can comfortably book a taxi for your next trip. The Easy Taxi app provides you with the estimated fare through its destination fare calculator feature. It also gives information about the estimated time for the arrival of your driver. Easy Taxi drivers are well trained, screened, and has verified and valid driver's license. Easy Taxi can be synchronized with the Facebook app to make it easier for you to redeem vouchers and coupons you won for your rides. The award-winning taxi-hailing app has a feature whereby you can track your ride seamlessly. Easy Taxi supports platforms like iOS and Android-powered devices.
7. GrabTaxi
GrabTaxi is a fantastic app that serves as an excellent alternative to Uber in the transport industry. The GrabTaxi app is designed with an elegant and user-friendly interface that is easy to navigate. The taxi-hailing services of GrabTaxi are widely enjoyed in some Asian countries. With GrabTaxi, you can enjoy excellent transport services from the numerous fleets available to its users. GrabTaxi has over 75,000 well-trained drivers. They also have verified and valid driver's license. When you make booking for ride-hailing services on the GrabTaxi app, you can easily track your ride. The payment system is flexible. Also, the fare charged by GrabTaxi is affordable to its users. The services of GrabTaxi is enjoyed in over 21 cities across six countries globally. These countries are Malaysia, Thailand, Philippines, Singapore, Vietnam, and Indonesia. GrabTaxi supports Android and iOS-powered devices.
Conclusion

Over the years, Uber has positioned itself as an efficient app in the ride-railing services. However, the flaws of Uber necessitates the need to discuss the best alternative apps you can use. Today, I have discussed the best alternatives to Uber. Try out any of them, and you will not regret doing so.