As much as we all like to deny it, a car is not only a mode of transportation. It is a vehicle that speaks for itself and also its owner.
Why a Need for Best Time to Buy a Car?
It describes the people using it. Perhaps, this is the reason why people are so skeptical and hesitant when they are purchasing a car. People tend to go over all their options multiple times and then come to a decision that might as well be subjected to change if another car or another better option comes up. The huge commitment and investment that buying a car takes, is what makes purchasing such a consuming process. If anything, the task can be seen as daunting. One element of purchasing, perhaps the most crucial one is buying itself. It involves transaction of money which everyone is hesitant of because come on, there is outflow of money. However, what if people were made aware of the fact that there is a best time to buy a car. Instead of purchasing a car anytime in the year, it is best to know what timing works best which can assist in buying a car for a lower price.

The best time to probably buy in the USA is, December. Now, to understand why December is the most attractive time of the year, people need to know about the concept of quota and how it works. So, each branch and every salesman are provided with a set of monthly, quarterly and yearly goals that they have to achieve. Achieving these goals means that they get lucrative bonuses. So, their attempt is to make sure that their goals are met and hence are more inclined towards selling cars. Since December is end of the month, quarter and year, all eyes are set on this month. Every salesperson is on his/her feet, wanting to achieve their desired goals. If people want to get the best possible discount and the perfect deal, then December is the month. People can get really great discounts as every salesman is in a competitive mode to sell more than the other salesman and get a bonus. Especially on 31st December, New Year's Eve. That day is the last day of the year, hence the great opportunity to avail a great discount.
Best Time Periods to Purchase a Car
However, December is not always convenient for people. It is at the end of the year and people do not always like waiting for the year to end in order to purchase a car. In that case, people can buy car during the year that can be very cost effective and affordable for them. They can get good deals on certain days of the year. So, as mentioned previously, salesmen have quotas that they need to fulfil in order to receive hefty bonuses. These quotas are divided quarterly and yearly. If people cannot buy at the end of the year, they should next focus on receiving good deals at the end of the quarter.
Quarter 1- January-March
Quarter 2-April-June
Quarter 3-July-Septmeber
Quarter 4-October-Decemeber
These are the defined quarters in a year. The best time to purchase a car is to do it at the end of these specified months. That is the 30/31st of March, June, September and December . People can strike a really good deal by negotiating. Salesmen are often in a hurry to sell cars and people can end up with really great deals if they visit with the intention of buying on these days. These 4 days of the year are the best in terms of getting discounts on cars that you might not be able to get during the rest of the year. They are not that rigid with their demands and people can easily fish a good offer if they pitch it in these days. It is the last day of the quarter and salesmen really want to sell any car they can without going into loss.
Let us take a look into this in a more minor way. We have discussed the best time of the year and the best time amongst the month to buy a car. Next is the best time to purchase a car during the week. We will take a look at the best day in the week to make this purchase. The best day in the week to buy a car is Monday , while the worst day is hands down a Sunday. People tend to make purchases over the weekend but it is a very foolish act that can result in quite a few hundred bucks. It has been found and reported that car dealers tend to give the highest discounts on Mondays, while the lowest over the weekend on Sundays. Weekends are the busiest and attract a lot of customers. This can result in a lot of traffic. Car dealers are fully occupied and so are the finance offices. They cannot possibly offer the best possible deals during this time. That is why early in the week is preferred when it is not much crowded and customers can get a more one on one interaction and hence, better deals through a more personalized experience. In some parts of the country, showrooms are closed on Sundays in that case people should either go on Tuesday or Wednesday. What can make it more ideal though is if a Monday is also at the end of the quarter. In that case, it is a double hit score that people can benefit from immensely. So, in conclusion if people are looking for the ideal day to purchase their new vehicle, Monday it is.
Best Time for Car Purchase in 2023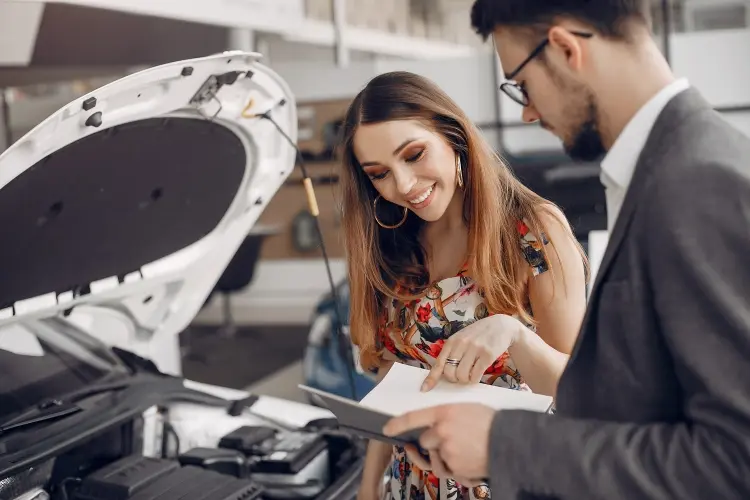 There are certain holidays which can get people great discounts as well. Buying around these times can be very profitable and cost effective.
Memorial Day
The summers are usually jampacked and prices are at their highest. However, around Memorial Day new models of cars are entering the market. This automatically puts the older models of cars are available at a discounted price. It is ideal for people who know exactly what model to buy and can wait a while. This waiting time will be eventually compensated when they will get a really good price for the car they wanted.
Black Friday
Black Friday is that one holiday that every person looks forward to. This is when people line up outside shops for hours beforehand in order to get in first and avail the best possible deal out there. Similar thing is with cars. Usually new models are about to come which automatically puts the older ones on a discounted price. Dealers are also offered incentives to sell more during this holiday, hence customers can take advantage of it.
Fourth of July
This is that time of the year when some cars are coming in while others remain. It provides the best of both worlds. Hence, an array of options available for people who are unsure and still skeptical about if they should buy the new one or the one that has been around for a while.
Tips when buying a car around these times:
Research. Before visiting any car dealer, it is important people know what they are looking for. It is good to be clearheaded beforehand or else visiting without any prior knowledge can be an overwhelming and confusing phase. So, it is crucial to be well informed and in touch with the requirements and needs that people want to fulfil from that car.
Finances. Another thing is to make sure that finances lines up with the purchase. The key is to first know one's current balance and then make necessary adjustments to get to the budget that is required. Any loans that needs to be applied for has to be done beforehand because these holiday seasons and other days that offer discounts comes rarely and cannot be delayed due to this.
Test drive: Test drive is equally important. Buying a vehicle without taking out for a drive is unwise. It is necessary to know about its pick and if a person is liking the experience.
It is important that a person knows what they are buying. Often for the sake of buying a car at a good price, people tend to compromise on quality. A good car can wait. It is a huge investment and this decision needs to be pondered upon. A car is generally supposed to last at least a couple of years so it is important to make the right decision. It can be rightfully concluded that there are certain times in a year when buying a car would be much better. End of the year is the most highly preferred time due to the various reasons stated. However, that does not mean that it cannot be bought anytime throughout the year. There are multiple times in a year when a buying can be cost effective, that is the last day of every quarter. There are a few holidays as well when good deals can be obtained. Negotiation and timing, both are the keys that can get one the car they desire at a great price.