Franklin P Adams once said that health is the thing that makes you feel that now is the best time of year. However, 2023 has not proved to be the best year for the planet in terms of health and safety. The COVID-19 is the talk of the town, and we hear about it every day at different mediums. The recent reports show an immense increase in the number of COVID-19 cases up to millions in numbers affecting over two hundred countries.

The increasing number of COVID-19 patients has compelled the governments around the globe to ensure the protection of the residents. With complete lockdown in several countries and aborted flight action, the health workers and the leaders are trying their best to save people from this destructive disease. Many countries have published a set of guidelines for their people to follow in this crucial time.
Safety Guidelines Against COVID-19
COVID-19 pandemic has enveloped people around the world. In the past few months, people have contracted the disease regardless of age, profession, or gender. It is said that some specific age groups or people with certain conditions are more susceptible to the disease. But, others cannot be omitted from the possibility of getting COVID-19.
How does the virus transmit?
The novel coronavirus is another virus from the Coronavirus virus family and causes respiratory obstruction. That makes it quite clear that the infection can affect your body once it enters your body through the nose to the rest of the respiratory system.
Thus, any means of contact that can assist the novel coronavirus in entering your body is the cause of transmitting. The ways of contact include:
If an infected person sneezes or coughs near you and you inhale those particles.
If the virus lands on your hand and you touch your mouth, nose, or eyes.
If you touch any surface where the virus was present and enters body through ENT.
Who is at More Risk to COVID-19?
COVID-19 does not come with manual hence everyone is vulnerable to the disease. Yet, as it affects your lungs majorly, a robust immune system is needed to fight off the virus. People with strong immune systems do not develop chronic symptoms and usually survive. However, people with weak or compromised immune systems are not able to fight against the virus very effectively. This contributes to more cases and deaths of people with weak immunity.
The groups with weak immune systems are:
Children below the age of 5
Elders above age 60
People with respiratory diseases such as asthma
Pregnant females
Individuals with comorbid conditions like diabetes, Cardiovascular diseases, high blood pressure, etc.
Stats According to Age Group
The most number of reported deaths is of people who are above aged 50 years.
45-54 years: 1,316
55-64 years: 3,124
65-74 years: 5,376
75-84 years: 6,773
85 years and above:7,268
Health and Safety Guidelines for All
Health and safety guidelines for all mean that every individual has to take necessary care. Do you think that only people who have crossed their golden jubilee are at risk? That's wrong. Only that they have a lower potential to fight against the disease. Yet, anyone of you can get the virus. And you know the worse part? Any bit of carelessness is not going only to harm you, but the elders or children in your family might also get infected immediately if you carry the infection.
Thus, to save yourself and your family from the agony of this disease, necessary precautions are needed. Here are some of the WHO-approved guidelines that would help to keep yourself safe.
1. Personal safety advice - Link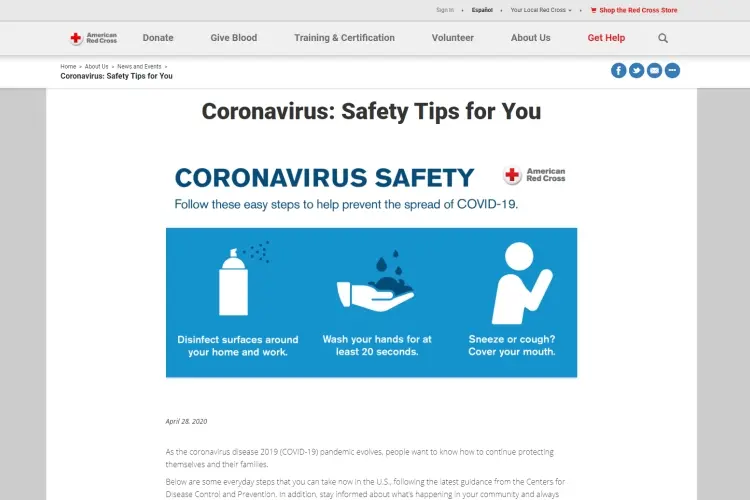 In the recent situation, the people are considered to be the front line fighters against the disease. If you are wondering, how? Let us tell you. The virus can only be transmitted in any way it comes in contact with a person from an infected individual. Therefore, personal safety is the best tool to get rid of this pandemic as soon as possible. You can ensure your safety by:
Self-isolation : It is well known and practiced that the infected patient must keep away from others to save them from transmitting the disease. But you cannot tell if someone has the virus. This is because the symptoms show up after around five days of infection. The best way to protect yourself, in such a scenario, is to keep yourself isolated. Make sure that you or anyone from your home does not go out unnecessarily.
Social distancing: We have been hearing the word quite frequently in the past days. Social distancing means keeping a physical distance from people and lesser contact, which is advised to be 6 feet apart. The cases of COVID-19 showed an immense increase when any gatherings had been arranged. One infected person in the crowd of 100 people can infect all 100. This shows how essential social distancing is!
Washing hands frequently:
You went out for work, and touched a surface that the virus was resting on, how can you protect yourself now? It's very simple. Washing your hands frequently throughout the day can prevent the transmission of the virus from your hands.
If you are at a place where water is not available, you can also use an alcohol-based sanitizer for the purpose.
Wear a mask:
Wearing a mask can be helpful to ensure you do not transmit the virus if you go out frequently for work. The surgical masks are effective against coronavirus. But, it is advised to use the N95 respirator for best efficacy. Anyhow, you should try to maintain a safe distance from people even if you have to step out repeatedly.
Use gloves:
The second tool of defense against the virus is a surgical glove. These gloves block the transfer of the virus from any surface to the hands. To be 100% sure, discard the glove as soon as you are home and wash your hands properly.
2. Food-related advice
Most of the population is not able to go to the gym owing to the situation, and the physical activity has also decreased significantly. Experts have a few bits of advice for you if you want to stay fit by eating healthy.
Cook food to the recommended temperature. Avoid eating undercooked or raw meat.
Keep cooked and raw meat in separate plates.
Ensure that the utensils are clean and free from germs.
Increase your Vitamin C intake for increased immunity.
Eat home-cooked food and try not to get food from the outside.
Limit the use of canned food.
Replace unhealthy snacks with healthy ones like yogurt, dry fruits, cheese, etc.
Bonus tip: The circumstances are not the same for everyone, as many people are facing financial problems. So, try to avoid buying unnecessary grocery that is not crucial for survival-aim on minimum grocery trips.
3. Workplace guidelines
Workplaces can prove to be a significant source of the spread of the disease if vital precautions are not taken. An unidentified COVID-19 patient might infect surfaces in the office vicinity and affect other workers. WHO has presented a thorough guideline for health and safety at workplaces. The comfortable yet effective instructions are:
Disinfection of surfaces is the most crucial part of workplace guidelines for COVID-19. When a patient sneezes, the fluid falls on any near object. Disinfection of the work surface can prevent the transfer of the virus to the body.
Sanitizer dispensers must be located in different parts of the office such that they are accessible to everyone. Make sure that they are refilled frequently.
Encourage the employees to stay at home if they suspect any symptoms of the disease.
Work-from-home must be practiced if physical presence in the office is not necessary.
4. Guideline for healthcare workers
The healthcare workers have been working day and night against the pandemic, which makes them more at risk. They are more exposed to the pathogen as numerous health care workers are rendering their services for the care of COVID-19 patients.
They must wear masks and maintain a safe distance from others if possible.
The masks should be disposed of immediately after use, and practice hand hygiene.
Personal Protective Equipment (PPE) is a must, particularly if you are dealing with patients infected with the coronavirus.
The Risk assessment should be completed by the health workers to determine the risk of infections.
5. Advice for travelers
Though the flights are not operational in many countries, yet some are providing special flights. These flights are responsible for transporting people stuck in foreign countries. WHO has issued unique travel advice for those who have to travel right now.
The travelers must be screened for fever at the airport as fever is one of the initial presentations of COVID-19.
They should be interviewed to ensure that they are healthy.
WHO advised travelers to keep themselves in isolation for 14 days to monitor the symptoms.
Should avoid visiting any public place before the 14 day period.
What to do if you feel the symptoms of COVID-19?
Call your healthcare provider to understand the essential details about dealing with the symptoms.
Choose your caregiver if you have mild symptoms only. The caregiver must take important measures for his/her safety.
Ask any of your family or friends to drop groceries to your place till you are isolated. Or order them online.
Be sure that you have medicines to treat symptoms like fever.
Following these guidelines strictly will save you and your family from being infected by the virus and help you keep safe. In this time of stress and fear globally, take care of yourself and check on people around you to make sure they are well.